BIMS International Co-Ordinator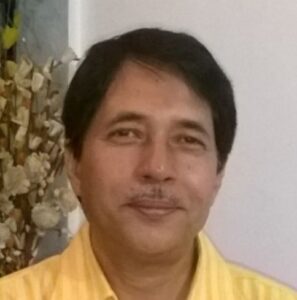 Mr. Vijay Bharatiya
My passion for working with youth began 1980's. In 1985 initiated Young Experimenters Group (YEG) in Ahmadabad.  I believe in facilitating the empowerment of Social processes or youth processes.   While working with community or youth, focus is engaging meaningful dialogue to understand the challenges, triggering participants thinking process to come out with their own solutions.
Since last 30 years, has facilitated process on education, media, youth, environment, human Rights and livelihood issues. For the last couple of years he coordinates South Asia Peace Alliance (SAPA).  He leads SAPA mission to strengthen the capacity of common people at the community level to handle conflict in nonviolent ways, bringing change in their lives through the tools of mobilization and advocacy leading to sustainable peace. Regards Mediation as important component to achieve peace.
SAPA has trained over 100 grassroots youth associated in South Asia. Actively promotes mediation and Peace Education for the younger generation by nurturing Youth Leadership for Peace Education.
Associations He is currently associated with many organizations and networks. Founder, Young Experimenters Group and Navyug Youth Youth Centre supported by Jeevan Tirth in Gujarat.  At the National Level: Long association with Dr.S.N.Subbarao, Director, National Youth Project (1989 onwards), Ekta Parishad (1993 onwards), With Indian Committee of Youth Organizations (ICYO 1990 onwards), HEAL (Health Education Art Life Foundation). Vartaleap Coalition-A heterogeneous National network of institutions, organiizations supporting youth empowerment process (2019 onwards)
International level:  Jai Jagat International (Jai jagat 2020), South Asia Peace Alliance (2008 onwards), Bangladesh International Mediation Society, BIMS (2018 onwards) and Africa- Asia Mediation Association (AAMA) 2019 onwards.