BIMS Media Communication Director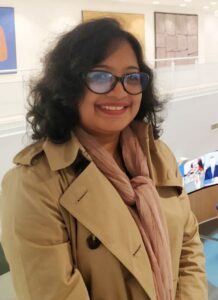 Most. Mahafuza Akter

Most. Mahafuza Akter is the Controller & Programme Manager of Bangladesh Television (BTV). She was the project Director of the "Project for capacity Building on Human Development Television (OHDTV) Programmes in Bangladesh" funded by Japan International cooperation Agency (JICA) and the government of Bangladesh (2016-2019).
She has also co-produced numerous programmes with a number of international organisations like ABU, EBU, AIBD, NHK World, KBS, Tokyo Docs, JICA, UNESCO, One Asia Project, etc. Trained from several National & internationals organisations like – NIMC(Bangladesh), AIBD, ABU,NHK,ABC,SBC,BBC Media Action etc. Awarded from PMA Global Grant 2019, Tokyo Docs 2017 and One Asia Project. She received a fellowship (2020) from The Radio Netherlands Training Center (RNTC) and won The Japan prize 2020 as a Top 5 finalist of TV proposal Division.
She is the life member of Bangladesh Red Crescent Society, Dhaka officers club and RNTC Alumni. She traveled to Japan, Australia, Brunei, Malaysia, Vietnam, Thailand etc. for professional purposes.