BIMS Patron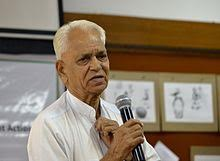 Mr. Salem Nanjundaiah Subha Rao
Mr. Salem Nanjundaiah Subha Rao commonly known as S. N. Subha Rao.
Mr. Rao was born in Bangalore, Karnataka India on 7th February 1929 .He was Advocate of repute, known for refusing unjust Cases.
While studying in the school he was inspired by the teaching of Mahatma Gandhi.His first experience with India's freedom movement was on the morning of 9 August 1942 ,when he along with other school students boycotted classes. He was writing "Quit India " on street walls and roads when he was arrested by the British Police but was later released being only 13 year's of age .Since then Mr. Rao became active in freedom struggle of the country. He continued his activities from 7, Jantar Mantar road New Delhi till 1970, organizing youth Camps all over India with tremendous success & popularity amongst youth men & women. His abilities won him the affection of Shri Jawaharlal Nehru, Shri K. Kamraj and several other National leaders.
He became a life time member of "Gandhi Peace Foundation " He is the most senior Mediator of the world.
He is a recipient of several international and nation awards. These includes the D.Lit. Honoured Degree by Kashi Vidhya Peeth – 1995, Vishva Manvadhikar Protsahan Puruskar – 2002, Rajiv Gandhi National Sadbhavana Award – 2003, Mahatma Gandhi Puruskar – 2008, Rashtriya Sadbhawna Ekta Prusaskar-2014 Nagpur, Maharashtra.